If nobody has told you today that they love you, we do.
But more importantly, God does.
---
SUNDAYS | 10:45AM
THE GYM @ ST. CECILIA'S CATHOLIC SCHOOL
635 Mary Cliff Rd, Dallas, TX 75208

Park along Mary Cliff Road, Ranier Street, or in the parking lot behind the playground.
You will enter through the doors on Mary Cliff Road.
If you are unable to meet in-person, join us live on YouTube Sundays at 10:45am for our live-streamed worship service.
---
Upcoming Classes & Events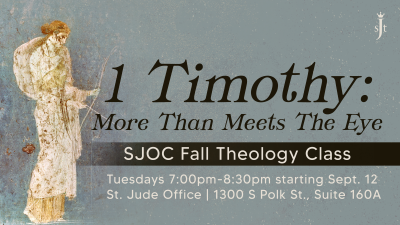 New Theology Class!
1 Timothy: More Than Meets The Eye


Some of the the most often quoted but least understood passages show up in 1 Timothy. Thanks to really good archaeology and biblical research, the world of ancient Ephesus has been revealed to us. This world clarifies that there is much more than meets the eye in this letter from Paul to Timothy. Join us as we learn about ancient Ephesus, how Artemis worship impacts this letter, and how Jesus is better than what Artemis has to offer.
Tuesdays 7-8:30PM
Starting Sept 12
1300 S Polk St Suite 160A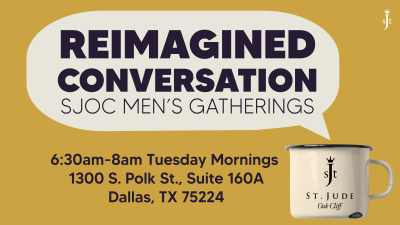 SJOC

Guys!
Join us for our new ongoing men's event, Reimagined Conversation. This is a great opportunity to grab a friend or neighbor who is asking questions about faith but aren't sure about church. We'll gather together, drink some coffee, and discuss various topics about faith and life. We hope you'll join.

6:30am-8:00am Starting Sept 12
Tuesday mornings
SJOC Church Office
1300 S. Polk St, Suite 160A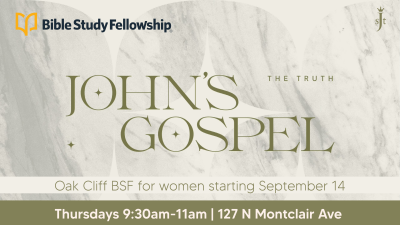 BSF is Coming to Oak Cliff!

Debbie Epperson will be hosting BSF in her home beginning on September 14! Bible Study Fellowship (BSF) believes it's important for everyone to personally explore the Word of God in community, and we agree. If you are looking for a deeper way to study The Book of John, you will love this study. *Women only & No children*

Questions? Email Debbie at .

Starting Thursdays, Sept 14
9:30am-11am
127 N Montclair Ave
Dallas, TX 75208
---
Ongoing Opportunities
Did you know we have a prayer group?

Every Sunday we have a small, but faithful group of people who pray for our church. And they would love for you to join them. They meet in the library at St. Cecilia's (up the stairs and to the right) at 10am.

Baby, Home, and Business Blessings

At St. Jude, we firmly believe that God is everywhere present and in all things. But we also believe that we should invite God in...and expect Him to show up! Martin and Nika would love the opportunity to come and bless your baby, home, or business. If you are interested or have questions, send us an email at or text the church phone at 469-773-0795 (be sure to include your name).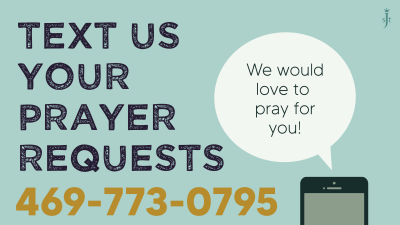 Text us your prayer requests!
Every Thursday, Martin and Nika pray for our SJOC family.
If you have a specific prayer request (or praise!) just text it to our church phone.
Be sure to include your name!